VMware Horizon is a platform for delivering a secure virtual desktop infrastructure (VDI) and applications in an on-premises, hybrid, or multi-cloud environment.
What is VMware Horizon
It is part of the VMware Workspace ONE solution, which also includes vIDM, for identifying users and implementing single sign-on, and mobile device management.
For virtualization tasks, the platform uses VMware Horizon View, which offers multi-monitor support, accelerated video playback, local connectivity to peripherals, high-quality 3D graphics, seamless scalability to support the growing number of virtual desktops, dynamic compute resource allocation for superior performance and optimization and increased resiliency of the entire virtual infrastructure.
VMware Horizon provides a robust feature set for remote workers:
Access to personal desktops from the Internet or corporate network from any device.
High performance.
Users work with applications, files, and data as if they were working on a local computer.
Management of virtual desktops from a centralized console.
Lower IT infrastructure costs by reducing the number of physical desktops.
VMware Horizon Components
Let's take a look at the main components of VMware Horizon.
vCenter Server: A centralized management system. It can be installed either in a physical or virtual environment, but it is recommended to install it in a virtual machine running on an ESXi host to take advantage of virtualization.
A predefined OVA template can be used to deploy vCenter as a vCenter Server Appliance.
ESXi Hypervisor. The physical server that hosts the virtual machines is called the ESXi hypervisor. The virtual machines, which serve as user desktops, are loaded with operating systems and applications. The vCenter Server is used to manage ESXi hosts.
View Agent: A software component to be installed on all virtual machines managed by VMware Horizon View.Connection monitoring, USB compatibility, virtual printing, and single sign-on are all included. The View Agent must be installed on any system that will be used as a virtual desktop.
Horizon Client is a client program that communicates with View Connection Server to establish a connection between end-user devices and Horizon virtual desktops or applications.
Horizon View Connection Server is the server that authenticates users via Active Directory.
ThinApp: VMware uses ThinApp as an optional component for application virtualization.
View Composer manages virtual desktops on the vCenter Server and uses linked clones to make smart use of storage.
Horizon Administrator is the web-based management interface for Horizon VDI. It is recommended that each Horizon Connection Server instance have its own Horizon Administrator instance.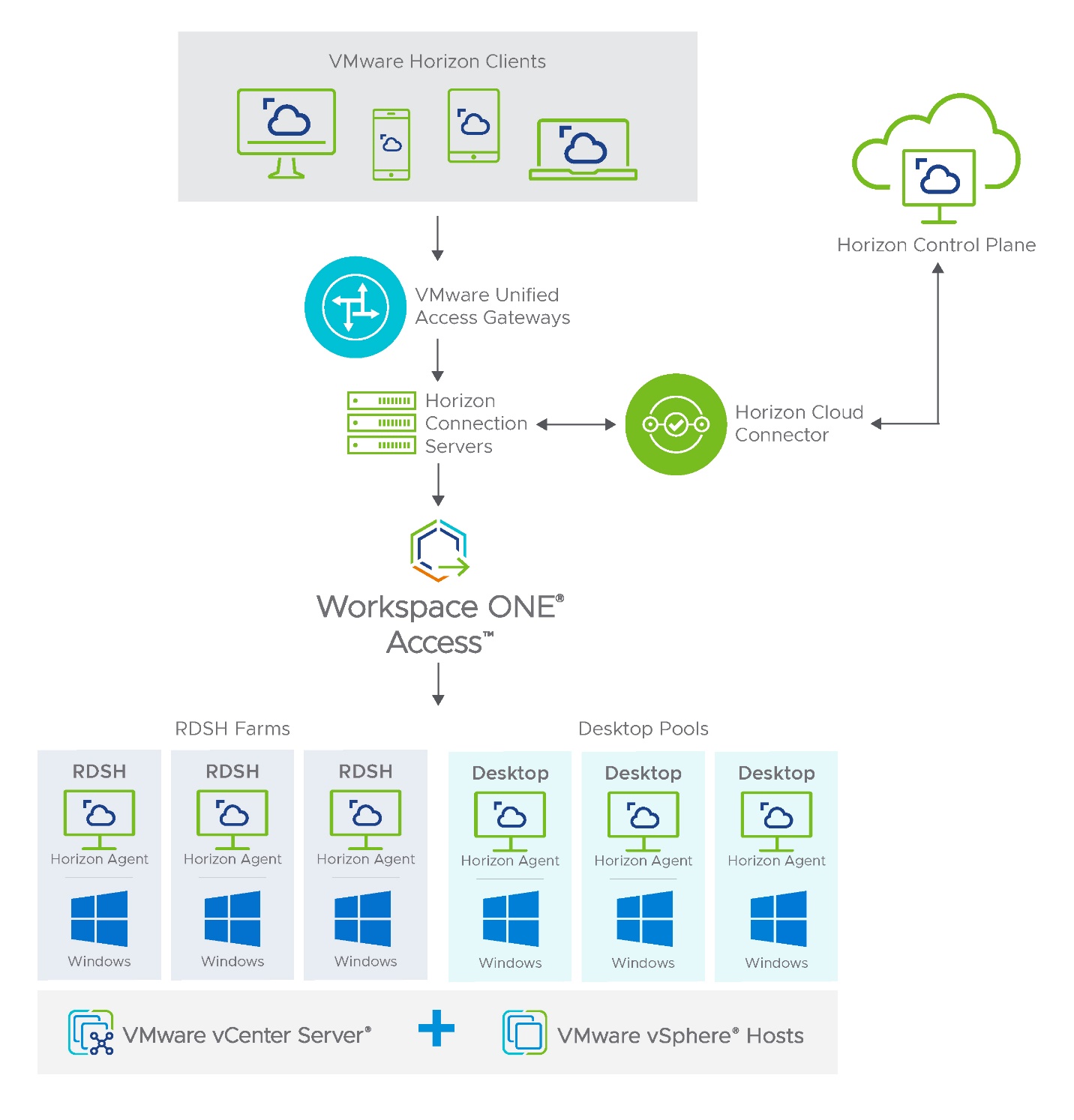 Virtualized Desktops with the VMware VDI Solution
VMware's virtual desktop management platform enables employees to work from their home PCs, laptops, thin clients, and zero clients.
You can also create hybrid environments, for example, in cases when some employees use devices with specific capabilities, such as 3D rendering stations. VMware tools allow you to incorporate this hardware into a shared infrastructure with virtual desktops, providing full remote access to these PCs with complete security. All that is required is a connection broker and software agent.
When do you need to use VDI?
There are several reasons why virtualization is worth implementing in your company:
The need to support multiple technologies and devices.

Downtime associated with updates in the branch office network.
You have field workers whose work needs to be properly organized.
Operations are often interrupted because of PC repairs, software setup, and upgrades.
The need to control employee access to corporate data.
The need to work with demanding software (rendering video projects, designing CAD systems, etc.)
VDI technology isolates users at different levels. This solution is particularly suitable for companies with high privacy requirements. For example, call centers. With constant staff turnover, this reduces the risk of data leakage. VDI helps organize a remote office. In today's environment, such solutions are particularly important.
VDI Deployment
Apart from the common infrastructure requirements, there are other factors, including:

Network preparation. The performance of remote workstations is directly related to the characteristics of the network. It is very important to anticipate the maximum loads that will be encountered to ensure that the right amount of network resources are available.

Resource calculation. Monitoring the current performance and the number of resources consumed by each of the virtual desktops helps with this, then it is easier to calculate the total resource consumption requirements.

End-user requirements. Ask users about performance requirements. You need to determine which applications are being used, how much graphics data is being used, etc.