VMware NSX EDGE
Virtual perimeter protection powered by VMware
NSX Edge is part of VMware Cloud Director and is an effective tool for virtual infrastructure security. It includes several services:
Firewall
NAT
L4 / L7 Load Balancer
Routing: OSPF, BGP
Site-to-Site IPsec VPN
Remote Access SSL VPN-Plus
Site-to-Site L2VPN
DHCP Server
Cloud constructor
What is NSX EDGE
NSX Edge is used to protect the perimeter of a virtual data center. It provides horizontal routing between internal NSX networks and vertical routing between internal NSX networks and the external physical network.
You get the necessary set of logical network elements and services (routing, load balancing, VPN, etc.). You can deploy virtual networks without interruption on any networking hardware.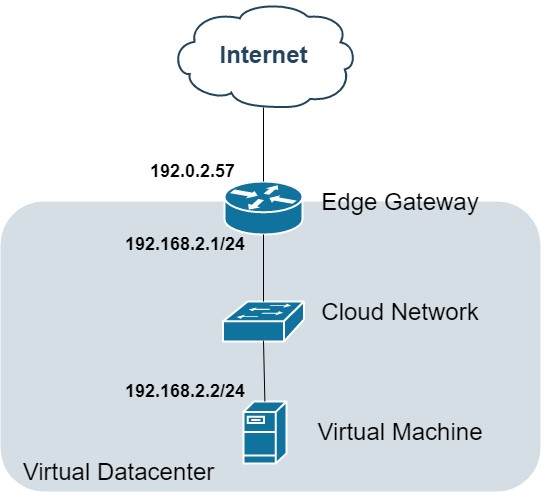 Benefits
Virtual Firewall configuration according to your requirements
Full range of services for network perimeter protection
Balancing traffic
SSL VPN and IPSEC VPN tunnels setup
Secure publishing of applications on the Internet
Why trust Cloud4U
14 years in cloud computing
Since 2009 the company successfully operates on the global market.
Reliable infrastructure
4 TIER III data centers, Enterprise level hardware, and software: HP, Cisco, Juniper, NetApp, VMware, Veeam, Microsoft, etc.
SLA 99.982%
Optical ring, MetroCluster, and redundancy mechanisms guarantee fault tolerance of services up to SLA 99.99%.
Transparent Billing Options
Hourly billing and pay-as-you-go allow you to pay only for the resources consumed.
Geo-Distributed Backup
Automatic backup (14 restore points) in a separate remote data center.
Flexible scalability
You can add and reduce the amount of resources without the need to contact a technical support service.
24/7 technical support
If any technical issue occurs, our team of support experts is available round-the-clock, response time is 10 minutes.
Partner Program
Revenue of up to 40% per contract. White Label is available.
Send a request
Let our managers know if you are interested in a solution or a service. They will contacts you within 2 hours.
You also can request a
free trial access here