Home

/

Virtual machine encryption
Virtual machine encryption
Virtual machine encryption secures the virtual hard drive containing your data
We offer a virtual machine encryption service, which will ensure the security of your data in the cloud and increase security against unauthorized access.
Service cost
| Consumption volume, TB | Price per 1 GB, $ |
| --- | --- |
| 1-2 (1TB min) | 0,63 |
| 2-4 | 0,47 |
| 4-10 | 0,31 |
| 10-30 | 0,16 |
| 30-60 | 0,078 |
Cloud constructor
What is VM encryption and why is it important?
Virtual machine encryption is an alternative to the usual storage encryption tools used by cloud providers. It allows keeping the files (configuration and contents of virtual disks, snapshots) of a virtual machine in an encrypted form.
We provide VM encryption managed through VMware Cloud Director. This service enables you to encrypt your virtual machines in the cloud.
Optionally you can use vTPM (Virtual Trusted Platform Module) together with Windows BitLocker and more.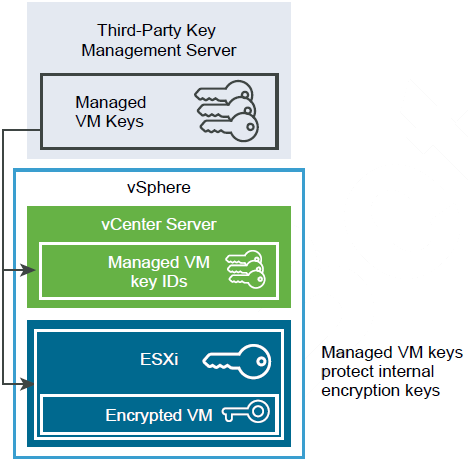 Benefits of the solution:
Control. Encryption limits the providers' engineers who can access the VM.
Security and convenience. It is possible to connect the vTPM to the virtual machine. This gives you the ability to use BitLocker without having to enter a password when booting up the VM. Extracting data from a BitLocker-encrypted virtual machine is much more tricky than from a standard VM.
Visibility. Encryption is managed from the guest operating system interface (if BitLocker is used).
Why trust Cloud4U
14 years in cloud computing
Since 2009 the company successfully operates in the international cloud services markets.
Reliable infrastructure
4 TIER III data centers, Enterprise level hardware and software: HP, Cisco, Juniper, NetApp, VMware, Veeam, Microsoft, etc.
SLA 99.982%
Optical ring, MetroCluster and redundancy mechanisms guarantee fault tolerance of services up to SLA 99.99%.
Transparent Billing Options
Hourly billing and pay-as-you-go allow you to pay only for the resources consumed.
Geo-Distributed Backup
Automatic backup (14 restore points) in a separate remote data center.
Flexible scalability
You can add and reduce the amount of resources without need to contact technical support service.
24/7 technical support
If any technical issue occurs, our team of support experts is available round-the-clock, response time is 10 minutes.
Partner Program
Revenue of up to 40% per contract. White Label is available.
Send a request
Let our managers know if you are interested in a solution or a service. They will contacts you within 2 hours.
You also can request a
free trial access here