Home

/

Backup & Replication service
Backup & Replication service
Backup and replication service allow you to have a copy of a virtual machine (VM) ready to run. If the primary VM fails, you can immediately switch to a standby virtual machine.
Data integrity and the shortest possible recovery time in the event of system failure are the top priorities for businesses considering a cloud infrastructure. Veeam Backup & Replication is a reliable and flexible solution for maximum availability of your systems using backup and instant recovery.
Backup keeps all data from your virtual machines backed up to an external location in parallel. Even if a server fails, no information is lost. It can be restored from a backup source. However, this would normally take time. Veeam Backup & Replication prevents time loss. This solution is built for automatic backups.
Service
Backup data center
Cloud constructor
The volume, GB

100

20000

40000

60000

80000

100000
What is replication
Veeam Backup & Replication is more than just backup. It lets you avoid manual backups and restores - simply set it up once, and the backup process and disaster recovery will be done without IT staff involvement. Backup time can be set so that it does not interfere with business processes, for example, at night.
In the event of a disaster, Veeam Backup & Replication automatically restores your virtual machine to the standby server. By getting a full replica of the primary server, the uptime is dramatically reduced. Often users do not even notice downtime.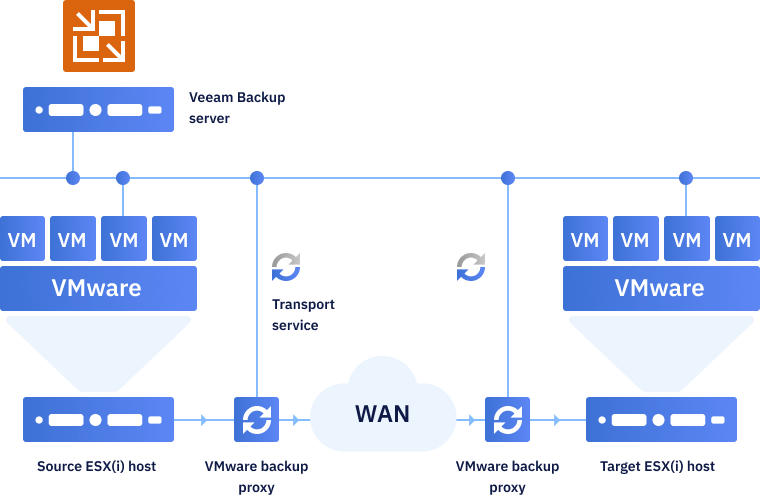 The benefits of the solution
Failure-free operation in highly critical areas, protecting data of any complexity
Built-in fault tolerance and instant recovery in case of system crashes, ransomware attacks
Support for replicas created from a VM image, ensuring high availability (local replicas) and disaster recovery (remote replicas)
Easy switch procedure to and from replica with synchronized changes
How it works
To create a replication, Veeam Backup & Replication completely copies an image of a virtual machine and registers its copy on the ESX(i) target host. Afterward, only the data blocks that have changed since the last session are copied and a new recovery point is created. Using this option, it is possible to "roll back" the virtual machine to its last saved status at any time.
Storage policy settings enable you to make any number of recovery points. With data deduplication and compression technologies, network bandwidth is regulated so that the replication process does not take over all network resources.
FAQ
What is Backup Data Center?
Backup and replication allow you to have a copy of the virtual machine (VM) ready to run. In the case of a primary virtual machine crash, you can immediately switch to a standby VM.
Will I be able to use it as a file store and allow other users to access it?
How does it work and which software is used?
It works via Veeam software.
Can I set the number of copies?
Is the entire VM backup being made or is it possible to backup individual files and folders?
Backup is made entirely of all virtual machines. Backup of individual files or folders is impossible.
Do we need any software?
Yes, Veeam-client is required.
You can find answers to your questions in our
Knowledge Base
. If you can't find an answer to your question, ask our consultants using the online chat or send a request using the support
ticket system
.
Send a request
Let our managers know if you are interested in a solution or a service. They will contacts you within 2 hours.
You also can request a
free trial access here