Replication and Backup 2 in 1
Replication has ceased to be a luxury – it's part of your backup strategy. 2-in-1 backup and replication allows you to have your virtual machine ready to run, and in the event of failure of a virtual machine (VM), you can immediately switch to VM which is in standby mode. With Veeam, you can every day to benefit from the use of replicas: the
Providing near-continuous data protection (near-CDP) for any virtualized application;
Support of replicas created based on the VM image, ensure high availability (local replica) and disaster recovery (remote replica);
Easy failover and synchronization, and automatic forwarding of IP;
The cost starts from $129 /month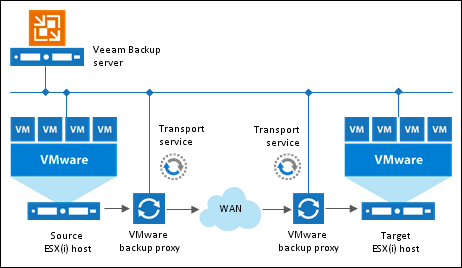 Replication to a remote site
Optimize data transfer. If the use of WAN delays replication, use one of the features offered by Veeam Backup &Replication to optimize data transmission. This will allow you to improve replication performance. With Veeam, you can:
deduplicate and compress the data replica on the side of the data source.
use multiple threads to fully load the available bandwidth of the transmission channel data;
set limits to minimize the channel load;
run the distribution replikins avoid the transfer of a full copy via WAN
Easier switching to the replica in case of failure of the source virtual machine (failover) and switching back to the original virtual machine after the restore (failback).
Replication is your " safety net". In case of failure of the source virtual machine you can immediately switch to a remark; while end users can continue working with applications and services until you fix the problems. Works replica, you can restore normal operation using any of the included features: reverse switch on the source virtual machine to a new location or the reconstruction of the VM at the remote site. In addition, Veeam Backup &Replication supports multiple recovery points for the replica. Thus, even if your replica is corrupted, you will be able to "roll back" to a previous restore point.
Reduce backup times by 95%
High speed backup Veeam Backup &Replication provides reliable backup image-level virtual machines in VMware and Hyper-V backup Technology from Veeam doesn't require agents, and his speed above 20 times.
Reduce recovery time by 95%
High speed and flexibility – spend on data recovery minutes, not hours or days. Veeam Backup &Replication will allow You easily and in seconds to restore the virtual machine, guest OS files and application objects.