Disaster recovery solution SyncCluster.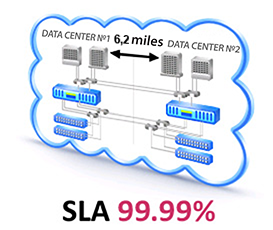 For customers who face specific challenges to ensure high-disaster recovery, fault tolerance and service availability Cloud4U offers a new solution — SyncCluster with SLA 99.99%.
SyncCluster is a unique solution that combines array-based clustering with synchronous mirroring.
The cost of SyncCluster solution starts from
$115 /month.
Thus, a storage system has been implemented in Moscow in which one half is located in one Tier 3 Data Center and the second half — at a distance of 6,2 miles far in another Tier 3 Data Center with both halves operates synchronously as a single structure. In case of any failure in one of the Data Centers (power failure, failure of any part of the storage system, failure of controllers, disks, communication channels between Data Centers) your data will remain available (RPO i = 0, RTO ii = 10 minutes), you won't lose any transaction.
SyncCluster from Cloud4U — is a cost-effective solution that ensures continuous availability of services and data for companies business continuity, which is critical. We offer SyncCluster as a service with a monthly fee, which will allow our customers to take all the advantages of this service avoiding capital expenditures for the purchasing equipment and its technical maintenance.
SyncCluster solves the problems:
power failures;
fire;
natural disasters;
human errors;
conduct investigations in the Data Center.