Home

/

DDoS protection with WAF
DDoS protection with WAF
Protect your websites and applications from DDoS attacks with WAF service.
DDoS attacks on your websites and applications can completely disrupt their operation. To prevent loss of customers and money, use the DDoS protection service. It is an efficient solution to counter all types of attacks, including TCP/SYN floods.
The solution is easily integrated with the infrastructure, hosted on Cloud4U platform. There is no need for data migration, additional configuration, software installation, or hardware purchase.
Cloud constructor
How DDoS protection works
Cloud4U offers two levels of protection:
Basic - protection at the network protocol level
Protection modules filter traffic, delivering only legitimate requests, thereby preventing channel congestion.
A dedicated IP address/IP address cluster from the protected subnet
The provider accepts and filters all incoming traffic to a dedicated IP
The customer receives the already filtered legitimate traffic back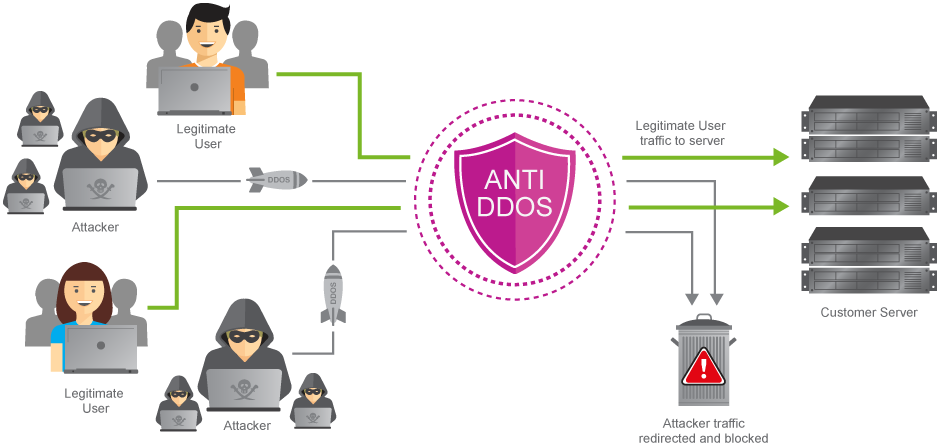 Protection at the application protocol level
The Web Application Firewall (WAF) analyzes and cleans traffic at the HTTP/HTTPS, DNS, SIP, and other application-specific protocols. It is an excellent solution for web applications, providing L7-level protection.
The solution meets PCI security requirements, reduces web application threats and vulnerabilities, prevents theft and manipulation of sensitive corporate data, and protects customer information.
In addition, the solution reduces the risk of using your infrastructure to attack other enterprises.
Benefits of anti-DDoS solution from Cloud4U
Cost savings. You can choose the level of protection that suits specific needs.
Scalability. The solution can simultaneously respond to multiple DDoS attacks.
Reliability. Fault-tolerant filtration system successfully rejects attack traffic.
Continuity of operation. Monitoring is conducted 24/7.
Expertise. Cloud4U is an expert in the subject of cloud resources protection.
Tariffs
Normal
---
---
---
Support for third-party SSL certificates
---
Signing a contract with a legal entity (if necessary)
---
Providing Premium IP-address
---
Blacklists/Whitelists: up to 5 rules
---
Load balancing: up to 2 servers
---
Ticketing response time: less than 30 minutes
---
146 $ per month
Excluding VAT
Premium
---
High priority traffic processing
---
---
---
---
---
---
Blacklists/Whitelists: up to 50 rules
---
Load balancing: up to 10 servers
---
Response time: less than 15 minutes
---
320 $ per month
Excluding VAT
Enterprise
Protection for 10 domains
---
Unlimited: geo-blocking and use of WAF
---
Possibility to include your IP networks in the protection
---
Best suited for IP-TV connection
---
The top priority for traffic processing
---
Role-based account management
---
---
Support for mobile phone alerts
---
BGP protection connectivity
---
Individually tailored page
---
Blacklists/Whitelists: up to 100 rules
---
Load balancing: any number of servers
---
---
Response time: less than 10 minutes
---
800 $ per month
Excluding VAT
Why trust Cloud4U
14 years in cloud computing
Since 2009 the company successfully operates on the global market.
Reliable infrastructure
4 TIER III data centers, Enterprise level hardware and software: HP, Cisco, Juniper, NetApp, VMware, Veeam, Microsoft, etc.
SLA 99.982%
Optical ring, MetroCluster and redundancy mechanisms guarantee fault tolerance of services up to SLA 99.99%.
Transparent Billing Options
Hourly billing and pay-as-you-go allow you to pay only for the resources consumed.
Geo-Distributed Backup
Automatic backup (14 restore points) in a separate remote data center.
Flexible scalability
You can add and reduce the amount of resources without need to contact technical support service.
24/7 technical support
If any technical issue occur, our team of support experts is available round-the-clock, response time is 10 minutes.
Partner Program
Revenue of up to 40% per contract. White Label is available.
Send a request
Let our managers know if you are interested in a solution or a service. They will contacts you within 2 hours.
You also can request a
free trial access here