Remote Desktop Protocol (RDP) allows administrators to connect to another computer from anywhere. They get full access and control over the software and data.
RDP is based on a client-server model, providing the user with a graphical interface to connect to another computer in a network. To do this, the user runs the RDP client software, while the other computer runs the RDP server software.
RDP clients exist for most versions of Microsoft Windows, Linux, Unix, macOS, iOS, Android, and other operating systems. RDP servers are built into Windows OS. By default, the server listens on TCP port 3389 and UDP port 3389.
In a professional environment, they say there is nothing better than the built-in Microsoft RDP-client, but it does not work under Linux and Unix-like OS as well as old Windows versions. In this article, we review some other RDP clients.
Recommended RDP clients
Depending on the installation method RDP clients can be:
embedded in the OS distributions;
external applications installed on a computer or smartphone;
web applications working via a browser.
SolarWinds Dameware Remote Support

With this solution, technical support teams can access the endpoints to investigate and fix problems. Thanks to encryption, Dameware can be used over the Internet. DRS provides all the necessary remote access features required to fix technical issues. The product works well for help desk functions.
Features:
Remote administration of Windows computers.
Updating and maintaining Microsoft Active Directory.
Remote troubleshooting.
License control.
The software can communicate with devices running Windows, macOS, and Linux. A technician can reboot remote computers, and use the Wake on LAN feature to start the computers.
Pros:
Multi-factor authentication.
Access to sleeping and turned off computers; on the local network and remote locations.
iOS and Android applications.
Possibility to export AD properties, system configurations, and software information in CSV or XML formats.
Cons:
No screen-recording feature.
Zoho Assist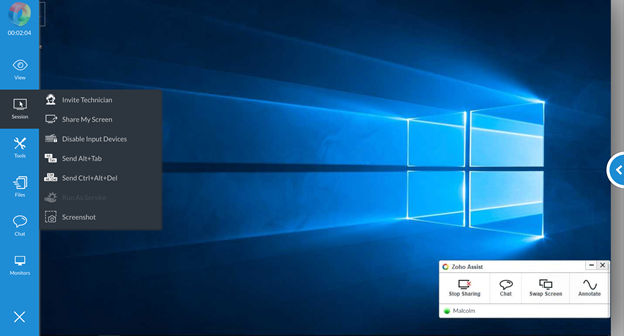 Zoho Assist is an all-in-one remote support software and an unattended access tool. The software offers many features to help technicians remotely solve customer tech issues and manage employee computers. Works with Windows, Mac, and Linux, and supports Android and iOS devices, Raspberry Pi, and Chromebooks. The program requires no pre-installation and is suitable for providing technical support even through firewalls and proxy servers
Pros:
Switching between remote support and unattended access from a single-user menu.
Free plan provides access to five computers.
Free cloud storage.
White-label for large organizations.
Cons:
Some remote support features require a client download. -
Remote printing only works on Windows.
NinjaOne (formerly NinjaRMM)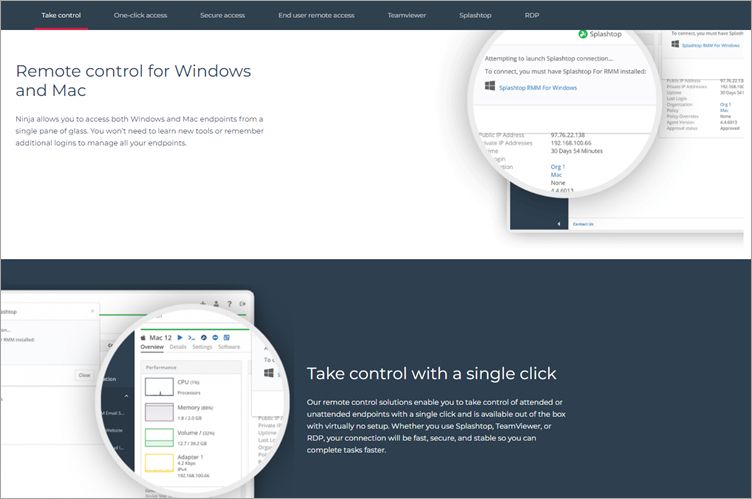 NinjaOne enables CIOs to monitor and manage the entire IT stack from a single window. The platform monitors Windows and Mac workstations and laptops, Windows servers, cloud infrastructure; network devices including printers, firewalls, routers, and switches.
With NinjaOne, IT specialists get a single monitoring dashboard for SNMP devices such as routers, firewalls, printers, IoT devices, and more. The platform allows monitoring the status of network equipment as a whole, from a hardware or software perspective.
You can selectively disable alerts and actions on network devices in active services, such as during hardware upgrades or device reinitialization, to avoid automation-caused complexities, and to avoid error requests.
Pros:
Greater capabilities thanks to TeamViewer and Splashtop solutions.
Self-recovery of remote desktop services.
One-click access to devices from anywhere.
Issue alerts on end devices.
Cons:
No obvious ones were found.
RemotePC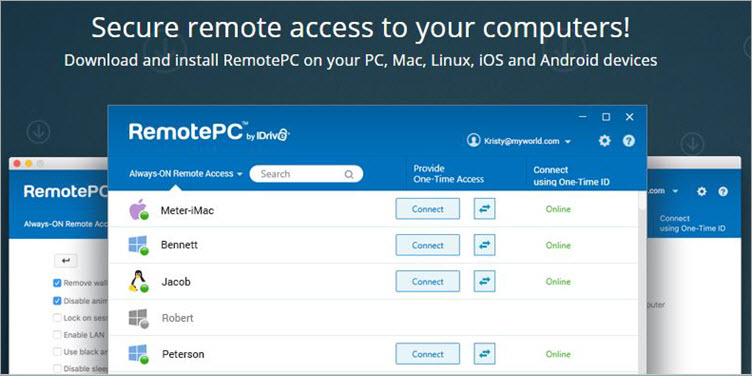 RemotePC is an add-on for remote control of a device via another PC. The utility allows connecting to a PC remotely via your phone. The unique feature of the software is that you can use it as a remote control. The solution allows you to easily manage devices, transfer files, and print documents remotely. Synchronization with Android or iOS portable devices is available.
RemotePC is available free of charge, but the features of the free plan are very limited. The add-on is mostly used by small organizations.
Pros:
Simple user-friendly interface.
Fast and efficient, the password protection function is implemented.
Relatively inexpensive.
Powerful integration and compatibility.
Cons:
Sometimes the connection is interrupted.
Cannot display more than one remote screen in the same window.
Remote desktop client software is a tool for connecting and interacting with another computer over the Internet or an intranet. It is used for a variety of purposes, including:
Remote desktop access with full keyboard and mouse support.
Remote fixing of technical issues.
Real-time collaboration.
Managing devices and network resources.
Remote working is becoming more common these days, so the adoption of related technologies is booming. Choose any of the above programs or or use the standard Remote Desktop Protocol from Microsoft to quickly resolve issues and take advantage of other benefits with high performance and security, no matter what device you want to access from.