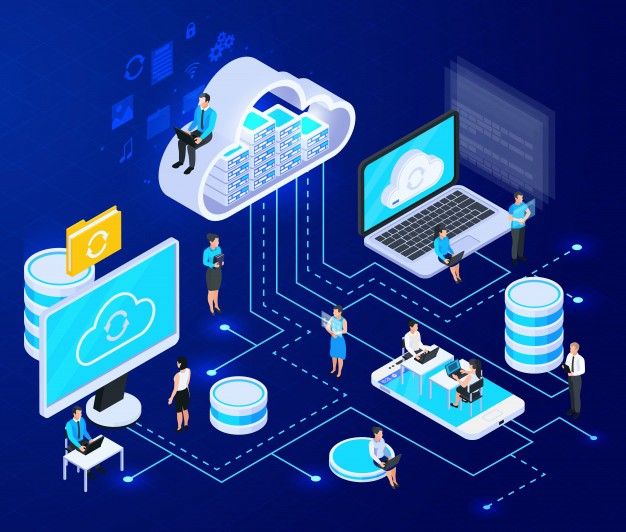 Cloud adoption of enterprise systems has seriously boosted the infrastructure development of cloud platforms, as well as their overall performance. It is expected that the cloud will bring significant business benefits through the deployment of solutions based on Artificial Intelligence and IoT technologies.
According to IDC, the cost of the public cloud will grow from $229 billion in 2019 to $500 billion by 2023 at an average annual growth rate of 22.3 percent. The development of this market will be determined by five major trends, each of which will begin to play a decisive role in 2021.
Serverless
Cloud serverless is a model of dynamic allocation of server resources among consumers with the dynamic pricing of their use, as opposed to the traditional model of payment for a certain fixed capacity.
The main feature of this approach is that there is no need to allocate and manage the infrastructure, the cloud resources are automatically provided in the volume required to perform specific tasks.
The most prominent example of serverless computing is Function as a Service (FaaaS), where application code is packaged in units called functions and a third-party provider delivers it as a managed service.
Satya Nadella, CEO of Microsoft, is one of the most active advocates of using cloud platforms in the serverless paradigm. He believes that serverless computing is not only business-centric but also the inevitable future of all distributed computing. Serverless-solutions can seriously change the structure of corporate preferences and the concept of introducing cloud technologies as such already in 2021.
Hybrid cloud in the spotlight
Most businesses are deploying a hybrid cloud in their IT infrastructure. The main reason to do so is the benefits related to the control and security of private networks, as well as the ability to expand and versatile public cloud.
According to Gartner, the global market for public cloud platforms will grow by 6.3% over the year to $257.9 billion by the end of 2020. If the real number of enterprises using a hybrid cloud was 58% in 2019 and 52% in 2018, this year shows a huge growth. In a recent survey of companies that use public clouds, 81% of respondents said they work with two or more providers.
The basic advantages of multi- and hybrid clouds:
The speed and availability of IT resources. Hybridization optimizes the network to reduce latency and accelerate data exchange;

Control. Companies can tailor the hybrid cloud customization model, optimizing it according to their needs;

Security. Using a hybrid cloud, businesses can benefit from both public and private cloud security.
While data is transferred to the public cloud for analytics and other processes, encryption and impersonalization technologies provide greater security.
Containers and Kubernetes
For years now, containers have been the standard for developing applications in the public cloud.
Containers are a scalable, cloud-based, isolated environment that contains all the components needed to deploy and operate applications. Due to its isolation, it is ideal for building microservice architectures.
Containers also support the migration of applications across all types of IT infrastructures, enabling them to meet the challenges of building native cloud applications and providing flexible life cycle management. Businesses can easily migrate IT services between providers' sites and their own infrastructure.
IDC predicts that with the Kubernetes container cluster management tool, 95% of all new microservice projects will be deployed by 2021. Gartner predicts that the global market for cloud container deployment will grow from $465.8 million in 2020 to $944 million in 2024.
Containers have become popular as they help solve problems related to delivery, mobility, upgrades, and other issues experienced by application developers. The introduction of cloud applications and infrastructure is expected to further encourage gradual but stable and widespread growth.
Gartner predicts that by 2022, more than 75% of the world's companies will use containerized applications in production, compared with 30% today.
AI in data centers
In the coming years, the use of AI in data centers will reach its peak. IDC forecasts that by 2021, spending on AI will grow to $52.2 billion, with an overall average annual growth rate of 46.2 percent from 2016 to 2021.
Infrastructure management AI tools can solve a huge part of the problems associated with the maintenance of corporate systems, from equipment failure to energy savings and system failure detection.
Gartner reports that this year 75% of organizations faced problems with the operation of IT infrastructure. To some extent, this can be solved by properly implementing AI in data centers.
Such projects can help automate manual tasks and solve problems of insufficient skills among employees. At the same time, AI resources can help enterprises learn from their previous experience and draw productive conclusions.
With the introduction of artificial intelligence technologies, more sophisticated solutions for data protection will emerge without the need for human intervention.
Digital Natives
According to a study published by the Digital Marketing Resource Center, by 2025, " Millenials " will cover 75% of all jobs. This data shows the trend towards an era of "digital natives".
With the new digital world, IT is becoming a key focus in virtually all areas of the economy and in all workplaces.
Filling vacancies with representatives of the generation that has grown up in the digital reality will require them to have high-quality knowledge of modern cloud computing. Employers are committed to providing access to all key technologies and solutions in this area.
Generation technical expertise must meet every aspect of the cloud's application in practice. If we consider the jobs of traditionally organized businesses, they have two categories of employees. The first category prefers to stay away from technology, while the other tends to live literally in a digital paradigm.
Today, it is necessary to learn how to transform the first to the second - an enlightened and interested class of information consumers.
Cloud computing and other related technologies will optimally combine both "subspecies", which in the future will give the business rapid productivity growth.