Most businesses use video surveillance footage to monitor their premises in real time or analyze security incidents. Video surveillance is mainly adopted in banking and financial services, transportation, and retail. It helps to minimize the risk of theft, control and improve customer service, and monitor employees' performance. According to the research, the global video surveillance system market is expected to reach USD 90.37 billion by 2026, registering a CAGR of 9.31%, between 2021 and 2026.
The number of recordings from surveillance cameras is growing every day, so the question of storing such large-scale data archives is becoming important. One alternative to local storage would be to transfer video to a cloud platform. In this article, we will give you a brief overview of how video surveillance storage works, explain its advantages and challenges, and compare cloud video storage with a local one.
How does cloud video surveillance storage work?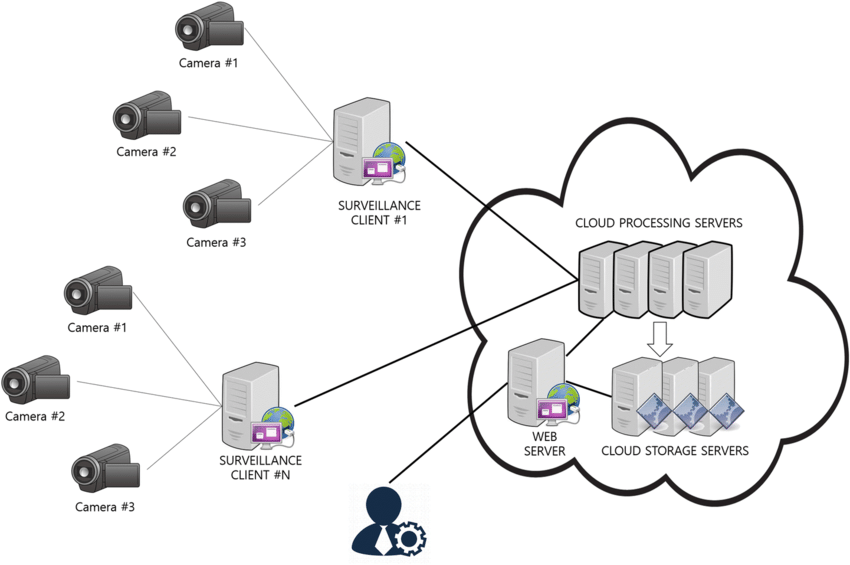 Cloud video storage is one of the leading technologies for remote monitoring. The main thing is the method of storing itself. This method is cost-effective and simple, as it does not require any additional equipment. The only physical hardware involved is IP cameras, recording and sending data to the cloud. Video recordings are stored on a remote server, which can be accessed via the Internet.
The principles of cloud storage make it much easier to create a video surveillance system for business purposes. With the development of high-speed mobile Internet, such services have become commonly used, since this option does not require purchasing expensive equipment for storing data from cameras as well as being responsible for the storage of recordings. Also, cloud video surveillance services automatically update, without the user's involvement. Users also do not have to comply with the legal principles of data storage: it is the provider's responsibility.
How cloud CCTV storage can help business
The main features of using a cloud video storage include the following:
Remote access. In the past, you often needed physical access to the security system. By connecting your CCTV systems to the cloud, authorized users can access and share footage at any time from anywhere.
Easy maintenance. Cloud video storage is easy to set up; it does not require hardware, as well as IT and security specialists to keep the system up and running.
Cybersecurity. An advanced cloud solution is cyber secure with end-to-end encryption, TLS, and HTTPS. It maintains multiple encrypted copies of data in the cloud, creating high availability and redundancy.
Regulatory Compliance. Cloud providers often include compliance configurations to make it easier for companies in regulated industries to manage sensitive information.
Challenges of cloud video surveillance storage
Whether different types of cloud storage solutions can help your business or not depends on several requirements.
For example, some businesses still do not have enough bandwidth to download video, or are unable to dedicate all of their network resources to video surveillance systems. Even large enterprises often have to limit the network bandwidth allocated to video to 100-200 kbps of total bandwidth to provide the enterprise network with the bandwidth to transmit critical data.
As the amount of video increases, the bandwidth also increases, hence the storage capacity and cost. Keep in mind that most of the collected video data is never used. However, if you optimize the process and upload only what you really need to the cloud, it will not affect the cost.
The approach to storing video surveillance data in local or cloud storage may differ. While local video storage requires equipment, cloud systems do not. You only pay for the cost of the cloud storage itself.
Camera systems that store video locally are usually difficult to maintain because of the large number of components required to operate the system. In contrast, a cloud system has a much simpler setup process.
With a team of professional sales and technical support representatives, Cloud4U can help you choose and implement the best system for your video surveillance needs. Call us or send a message on the website and we will arrange test access so you can try out the system.