Cloud4Y has been certified for compliance with the international standard for Information Security ISO / IEC 27001.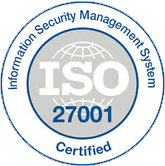 ISO / IEC 27001 - the international standard for information security, developed jointly by the International Organization for Standardization and the International Electrotechnical Commission. Ready for release subcommittee SC27 Joint Technical Committee JTC 1. 
Standard contains requirements in the field of information security for the creation, development and maintenance of information security management systems (ISMS). 
The standard ISO / IEC 27001 (ISO 27001) collected descriptions of the best international practices in the field of information security management. 
ISO 27001 specifies requirements for information security management system to
 demonstrate the organization's ability to protect its information resources. This standard has been prepared as a model for developing, implementing, operating, monitoring, analysis, support and improve information security management system (ISMS). 
The goal of the standard: 
The purpose of the ISMS - the selection of appropriate measures of safety management designed to protect information assets and ensure stakeholder confidence.