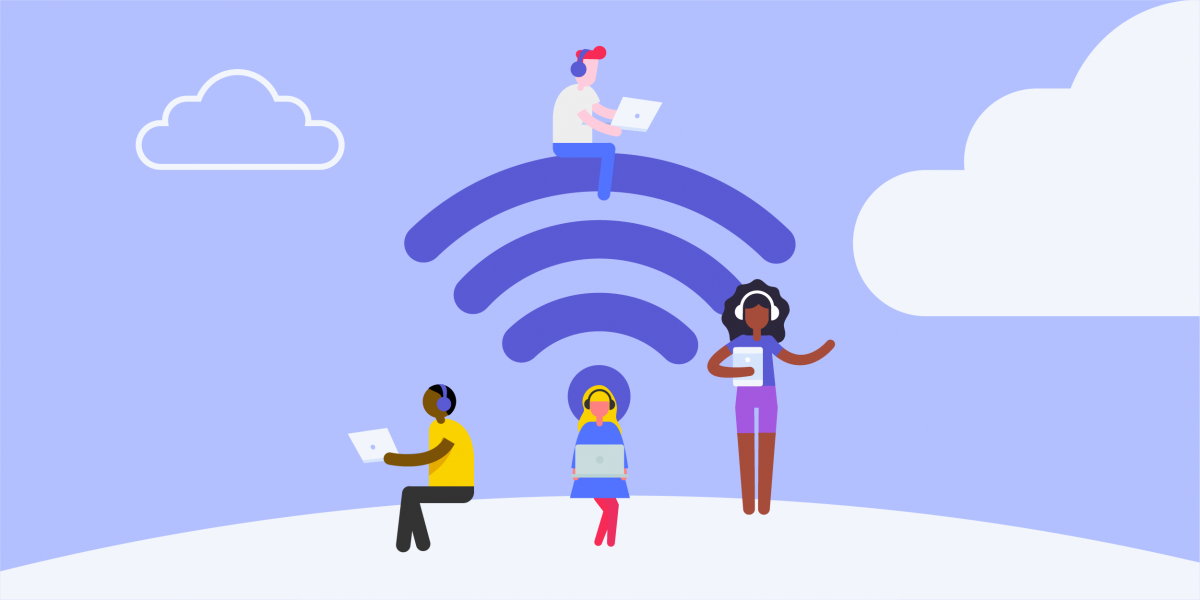 Working from home has become a common practice over the last few years. International Workplace Group report reveals 50% of employees globally are now working outside of their main office headquarters for at least 2.5 days per week. However, these days remote working has become a necessity and while some companies, where it was practiced before, can quickly adjust to the changed work format, for others, who got used to working in office, this could be challenging.
Thanks to modern remote access technologies, it is possible to keep business running and help employees stay productive when working from home. In this article, we will look at how to arrange employees' access to the company's IT resources while comply with security measures.
Cloud disk (FTP, NextCloud)
When it comes to collaborative work with documents and file sharing, first of all we think about popular solutions like Google Disk, Dropbox, Yandex, OneDrive and so on. Such solutions are certainly convenient and address most tasks related to collaboration. But unfortunately, they do not provide security.
Cloud4Y developed a SaaS product based on Nextcloud open source software solution for collaboration and file and document sharing. The solution is similar to the usual cloud storage, but significantly exceeds the level of information security due to built-in encryption and control mechanisms, as well as the placement of data in a secure cloud infrastructure.
Nextcloud is even more than just a cloud service for storing files and folders. You can use it in a much wider range of scenarios. It is a complete, personalized collaboration platform where you can edit files in real time, chat and interact with colleagues via video, manage calendars, assign and manage tasks, and more. All this without the risk of data leakage. Therefore, if the issue of privacy is important, Nextcloud significantly exceeds its free analogues.
Remote Desktop Protocol (Terminal)
Remote Desktop Protocol (RDP) is a Microsoft proprietary protocol that provides the user with a graphical interface to connect to another computer via a network connection. To do this, the user runs the RDP client software, and the other computer must run the RDP server software. RDP clients are available for most versions of Microsoft Windows (including Windows Mobile), Linux, Unix, macOS, iOS, Android and other operating systems.
RDP is referred to shared computing as users share the operating system, applications and hardware resources of the host. The solution is easy to setup and maintain. It is designed to cover 95% of employees' tasks (working with documents, mail, browser, office applications). Connecting the service and setting up virtual desktops will take up to 1 hour and you will not even need to involve system administrator.
A virtual desktop server is created in Cloud4Y cloud infrastructure. Any number of users can connect to this server. If there is a lack of capacity, you can easily increase it yourself in your account. It is also possible to connect to corporate networks and work with the data on your office server (or data center) through a secure connection (VPN).
RDP Pros
Efficient utilization of computing capacity (CPU, RAM) by allocating server resources among several users
Virtual Machine resource management (CPU, RAM, HDD) and flexible real-time resource modification
Centralized administration and management
Working in a familiar Windows interface
Redirection USB keys (client-bank, e-signature)
Daily backup (from 14 recovery points)
Access from any device (including outdated laptop or PC)
The possibility to use your own software
An option to create secure VPN connections to client networks.
RDP cons
Not designed to work with external graphics cards (3D graphics)
With more users, the load on the server increases (requires control).
Virtual Desktop Infrastructure (VDI) or PC over IP (PCoIP) technology
PCoIP desktop virtualization technology, based on VMware Horizon View software solution, suggests that each user works on a separate virtual machine and does not share resources with colleagues. Dedicated independent workstations are individually configured for specific user tasks.
The main advantage of VDI is that for running corporate applications, from MS Office to accounting programs like 1C, they do not required to be installed on thin clients - all this runs from the cloud. Therefore, there is a minimum system requirements to user's devices. It takes no more than 10 minutes to deploy and prepare a workstation.
Since the resources are fully set up and allocated to a separate machine, this means that each machine runs independently. This is particularly useful when businesses deal with critical and confidential data that requires segregation.
VDI Pros
Guaranteed performance
Working with sensitive data that requires an isolated environment
The ability to work with graphics accelerators (GPUs)
VDI Cons
High cost (allocated resources and licenses per user)
Challenges with forwarding external devices (USB keys, scanner, printer, MFP)
RDP vs VDI – Which technology to choose?
Cloud4Y engineers recommend Remote Desktop Services (Terminal) for organizing remote office. This technology is easy to connect, cost-effective and often does not require the help of system administrators.
In today's situation Cloud4Y prolongs free test access to this service up to one month. You can leave a request here.
Mass transfer of office personnel to remote work is highly risky in terms of cybersecurity. When working remotely, users most likely use personal devices and unsecure Wi-Fi networks. This is a great threat to data security. Do not forget to protect your corporate data. Read our next article on how to address issues related to information security while working remotely.